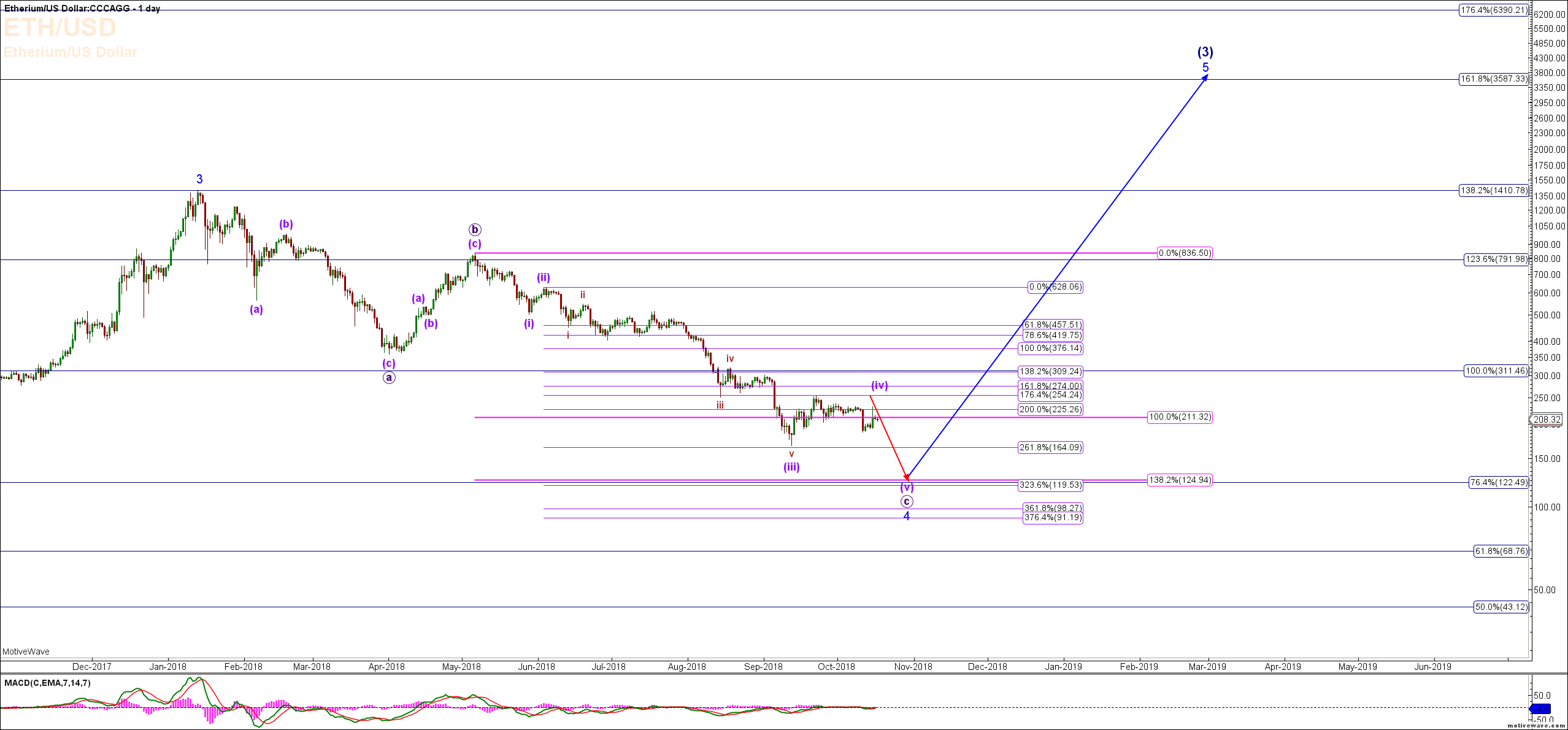 Recently, I posted the article Bitcoin – Hold On – The Ride's Just Starting, and had a number of people ask about the price pattern structure for Ether. In this article, I'll summarize the intermediate and long-term price pattern expectations for Ethereum (ETH-USD).
As I said in my prior article I stated:
Attempting to use any kind of fundamental approach to reliably forecast price targets for Bitcoin or any cryptocurrency is nigh impossible. Philosophically, the opinions of how cryptocurrencies like Bitcoin will play a role in the financial markets vary from those who believe they are destined to fail, to the polar opposite belief that they'll replace fiat currencies in the future. The disparity between these polar opposite views creates huge volatility and represents the heart and soul of investor sentiment.
For anyone who doubts that sentiment in the crypto sector is extreme, take a few moments and review the comments at the bottom my last article on Bitcoin. It is precisely this extreme sentiment that causes the enormous volatility in the sector. Along with volatility comes price pattern, and along with price pattern comes an ability to use the Elliott Wave to measure price movements in a fashion that is not only predictable, but that provides areas of downside support and upside resistance to trade against. Think of these levels as barriers that price has to puncture to continue in the same direction, but most times reverse.
While Ethereum is a completely different cryptocurrency than Bitcoin, it trades and is subject to the same sentiment swings as Bitcoin, or for that matter any tradeable instrument that has participation such that there's meaningful volume.
Ether's blockchain is generated by the Ethereum platform, which is an open source public blockchain. What does that mean? For purposes of this article, it's not nearly as relevant as price, and therefore price machinations will be the focus here. Not to dismiss the importance of the technical aspects of ETH, but in truth, as someone suggested in the comments section of my last article on Bitcoin, our principal reason for focusing on this sector is to establish trade opportunities that can result in realized gains.
Insomuch as ETH is tradeable, and has a chartable pattern that is reasonably predictable, coupled with a large dose of common sense to "right-size" exposure to this highly volatile sector, then it's an area that can be focused on for capital returns. Again, I'm not here to opine on the differences between blockchains, how Ethereum differs from Bitcoin, or any aspect of this crypto vs. another, other than to focus on the price action and how it relates to probable outcomes.
Mike Richards of TimePriceAnalysis charts the top 16 cryptocurrencies by market capitalization, and states – "Using Elliott Wave to measure the chart patterns in cryptocurrencies is the epitome of measuring crowd sentiment. There is no more accurate measure of crowd sentiment than Elliott Wave Analysis, and there is no more extreme instrument in expressing crowd sentiment than cryptocurrencies. Elliott Wave is ideal for establishing probable directional moves and price targets for this sector."
The chart and analysis for ETH are relative to the US Dollar. ETH saw its all-time low in July 2015 at $.15. From that low, in 3 short years, it's seen a spectacular increase in value, peaking at $1,410.78 in January of this year. Since then, it's been in a deep consolidation this entire year, having hit a low of $166.35 in early September – last month.
The Elliott Wave count for ETH is playing out to perfection. The peak seen in January 2018 hit the 138.2% Fibonacci extension based on the length of the initial (Wave (1)) up off the lows into the June 2016 high and the projected up off the related (Wave (2)) low seen in December 2016. From that (Wave (2) ) we expect to see the related Wave (3) subdivide into a full 5 wave sub structure and also reach at least the 161.8% Fibonacci extension.
Accordingly, we can see from the 3-Day Chart that the high back in January this year was the Wave 3 of that substructure which reached exactly the level of the 138.2% Fibonacci Extension. We are now looking for the related Wave 4 to push down a little lower to hit the 76.4% Fibonacci Extension at $122.49-$124.94. This would also be where the second leg down of the move off the high (The C Wave) would be 138.2% x the initial leg down (The A Wave).
From that low, we are then looking for the next major swing to the upside targeting at least that 161.8% Fibonacci Extension at $3,587 and considering the level of the previous high, we may well see much higher levels before the next swing down to retest the same lows as the move up originates from.
Concluding Remarks
To translate, we are looking for a move down from current levels to find support and reverse in the $122.49-$124.94 region, followed by a move up to $3,587, or a 25 to 30-fold increase. Before you rebuff that this is impossible, imagine for a moment that I told you ETH could rise to $1,400 when it was at $.15, for a 9,300x increase. It's entirely possible! Much like in the case of Bitcoin, after this next swing up, we would then expect a move back to current levels before an even larger rise.
While these types of value swings seem very difficult to grasp, they are indeed consistent of such volatile instruments. It's rare, if ever in most of our lifetimes that we've witnessed value swings as profound as what we're witnessing in the crypto sector. As I stated previously, this is not a sector for the faint of heart, and the easiest way to ensure you don't faint is by correctly sizing your exposure. It's not necessary to expose large capital, as the volatility can cause the bravest of us to squirm while awaiting the larger move up.
Disclosure: I/we have no positions in any stocks mentioned, and no plans to initiate any positions within the next 72 hours.
I wrote this article myself, and it expresses my own opinions. I am not receiving compensation for it (other than from Seeking Alpha). I have no business relationship with any company whose stock is mentioned in this article.